Posts for: October, 2017
By Sharon Stern, DDS, PC
October 28, 2017
When does dental care begin for a child? In the truest sense, before they're born. Although the first teeth won't erupt until months after birth, they're already forming in the baby's jaw while still in the womb.
During the prenatal period a baby's dental health depends on the mother's health and diet, especially consuming foods rich in calcium and other minerals and nutrients. Once the baby is born, the next dental milestone is the first appearance of primary teeth in the mouth. That's when you can begin brushing with just a smear of toothpaste on a toothbrush.
Perhaps, though, the most important step occurs around their first birthday. This is the recommended time for you to bring them to visit our office for the first time.
By then, many of their primary teeth have already come in. Even though they'll eventually lose these to make way for their permanent set, it's still important to take care of them. A primary tooth lost prematurely could cause the permanent tooth to come in improperly. Saving it by preventing and treating tooth decay with fluoride applications and sealants, fillings or even a modified root canal treatment could stop a bad bite and costly orthodontic treatment down the road.
Regular trips to the dentist benefit you as a caregiver as much as they do your child. We're your best source for information about dental health and development, including concerns like teething and thumb sucking. We'll also keep you informed on your child's growth process as their teeth, jaws and facial structure develop.
Beginning regular dental visits at age one will also help make your child comfortable with seeing the dentist, more readily than if you wait until they're older. It's an unfortunate fact that many people don't seek out the clinical dental care they need because of anxiety over visiting the dentist. Starting early, not only will your child be getting the best in dental care, they'll be developing a habit that can continue to benefit their oral health the rest of their lives.
If you would like more information on your child's dental care, please contact us or schedule an appointment for a consultation. You can also learn more about this topic by reading the Dear Doctor magazine article "Age One Dental Visit."
By Sharon Stern, DDS, PC
October 13, 2017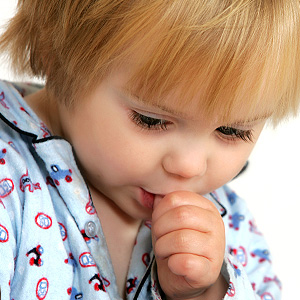 Although distressing to many parents, infants and toddlers sucking their thumb is a common if not universal habit. Most children phase out of it by around age 4, usually with no ill effects. But thumb-sucking continuing into late childhood could prove problematic for a child's bite.
Thumb sucking is related to how young children swallow. All babies are born with what is called an infantile swallowing pattern, in which they thrust their tongues forward while swallowing to ensure their lips seal around a breast or bottle nipple when they nurse. Thumb-sucking mimics this action, which most experts believe serves as a source of comfort when they're not nursing.
Around 3 or 4, their swallowing transitions to a permanent adult swallowing pattern: the tip of the tongue now positions itself against the back of the top front teeth (you can notice it yourself when you swallow). This is also when thumb sucking normally fades.
If a child, however, has problems transitioning to an adult pattern, they may continue to thrust their tongue forward and/or prolong their thumb-sucking habit. Either can put undue pressure on the front teeth causing them to move and develop too far forward. This can create what's known as an open bite: a slight gap still remains between the upper and lower teeth when the jaws are shut rather than the normal overlapping of the upper teeth over the lower.
While we can orthodontically treat an open bite, we can minimize the extent of any treatments if we detect the problem early and intervene with therapies to correct an abnormal swallowing pattern or prolonged thumb sucking. For the former we can assist a child in performing certain exercises that help retrain oral and facial muscles to encourage a proper swallowing pattern. This may also help diminish thumb sucking, but we may in addition need to use positive reinforcement techniques to further discourage the habit.
To stay ahead of possible problems with thumb sucking or the swallowing pattern you should begin regularly taking them to the dentist around their first birthday. It's also a good idea to have an orthodontic evaluation around age 6 for any emerging bite problems. Taking these positive steps could help you avoid undue concern over this common habit.
If you would like more information on managing your child's thumb-sucking habit, please contact us or schedule an appointment for a consultation. You can also learn more about this topic by reading the Dear Doctor magazine article "How Thumb Sucking Affects the Bite."