Posts for: March, 2018
By Sharon Stern, DDS, PC
March 28, 2018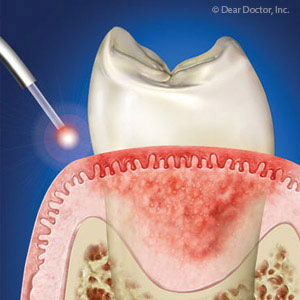 One of the most important revolutions in healthcare in recent decades is the increasing use of lasers. Now, laser technology is making a showing in dental care for the treatment of periodontal (gum) disease.
Lasers (an acronym for "Light Amplification by Stimulated Emission of Radiation") narrowly focus and amplify light within a small area. First developed in the early 1960s, laser technology rapidly advanced in the ensuing decades with more compact and precise devices that were eventually safe and effective for many types of medical procedures. Its remarkable features are now available for the primary focus of gum disease treatment—removing bacterial plaque.
Plaque is a thin, built-up film of bacteria and food particles on tooth and gum surfaces that serves as a haven for the bacteria that cause gum disease. The continuing presence of plaque and calculus (tartar) enables the infection to thrive and advance within the gum tissues, ultimately damaging them along with supporting bone. As the tissues weaken and bone volume diminishes, the teeth are at greater risk for loss.
It's necessary, therefore, first and foremost to remove all detectable plaque and calculus to stop the infection. This is traditionally done with special hand tools called scalers used to manually remove plaque, or with ultrasonic equipment that vibrates plaque loose to be flushed away with water. These procedures can take numerous sessions and may result in some minor post-procedural discomfort and bleeding during the cleaning.
But lasers specifically designed for plaque removal can minimize tissue damage and resulting discomfort. Because the particular laser light used reacts only with plaque and diseased tissue, it can remove them without disturbing nearby healthy tissue usually more efficiently than traditional scaling. Dentists who've used the technology frequently report less bleeding and higher patient satisfaction.
But before lasers for gum disease treatment are widely adopted, the procedure must undergo further scrutiny. Reports from dentists notwithstanding, not enough research studies have been performed to date that meet the necessary scientific criteria. But if the evidence so far from the field holds up, it's quite possible lasers will one day become a regular part of dental practice for treating gum disease.
If you would like more information on treating gum disease, please contact us or schedule an appointment for a consultation. You can also learn more about this topic by reading the Dear Doctor magazine article "Lasers Versus Traditional Cleanings for Treating Gum Disease."
By Sharon Stern, DDS, PC
March 13, 2018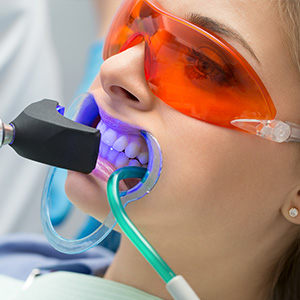 If you're ready to put the "pizzazz" back into your smile, your dentist may be able to help. It's possible your dull, dingy smile could be transformed with teeth whitening.
Teeth whitening or bleaching is a technique that applies a solution with a bleaching agent (usually up to 35% hydrogen peroxide in an office setting) to the teeth to whiten them. Although there are Do-It-Yourself home whitening kits you can use, there are a few good reasons why you should first consider a whitening procedure in a dental office setting.
To begin with, you should first have your teeth examined by a dentist to determine why they're discolored. Certain foods and beverages we consume or tobacco habits are the usual culprits causing stains on the enamel, the outermost tooth layer. These are the kinds of stains targeted by most whitening solutions.
But the interior of a tooth can also become discolored for reasons like trauma, past dental work or tetracycline use at an early age. If your staining is internal (intrinsic) rather than external (extrinsic) reducing that discoloration will require an invasive procedure only a dentist can perform—a home kit won't be able to do the job.
Another reason for having your teeth whitened by your dentist (even extrinsic staining) involves your time and the degree of brightness you'd like. Because dentists use stronger bleaching solutions (home kits usually use a weaker solution of 10% carbamide peroxide) it takes fewer sessions than home kits to achieve results—and they may last longer. In addition, dentists have more control over the level of brightness to match your expectations of a more subdued, natural look or a dazzling "Hollywood" smile.
A dentist can also help you navigate special circumstances like matching and managing natural teeth whiteness with dental restorations (which don't bleach) or special whitening situations like a single discolored tooth.
Even if you eventually decide to go the home kit route, consulting with a dentist first can still prove helpful. You'll get expert advice on products, tips on how to apply them and how to prolong the whitening effect. Whichever way you go, home kit or dentist, you can gain a brighter, more confident smile with teeth whitening.
If you would like more information on teeth whitening, please contact us or schedule an appointment for a consultation. You can also learn more about this topic by reading the Dear Doctor magazine article "Important Teeth Whitening Questions…Answered!"