Posts for: December, 2017
By Sharon Stern, DDS, PC
December 20, 2017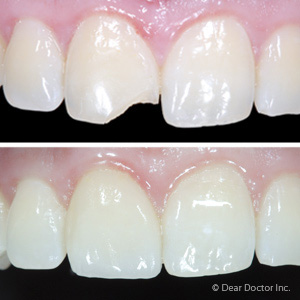 You've suddenly noticed one of your teeth looks and feels uneven, and it may even appear chipped. To make matters worse it's right in front in the "smile zone" — when you smile, everyone else will notice it too. You want to have it repaired.
So, what will it be — a porcelain veneer or crown? Maybe neither: after examining it, your dentist may recommend another option you might even be able to undergo that very day — and walk out with a restored tooth.
This technique uses dental materials called composite resins.  These are blends of materials that can mimic the color and texture of tooth structure while also possessing the necessary strength to endure forces generated by biting and chewing. A good part of that strength comes from the way we're able to bond the material to both the tooth's outer enamel and underlying dentin, which together make up the main body of tooth structure. In skilled, artistic hands composite resins can be used effectively in a number of situations to restore a tooth to normal appearance.
While veneers or crowns also produce excellent results in this regard, they require a fair amount of tooth alteration to accommodate them. Your dentist will also need an outside dental laboratory to fabricate them, a procedure that could take several weeks. In contrast, a composite resin restoration usually requires much less tooth preparation and can be performed in the dental office in just one visit.
Composite resins won't work in every situation — the better approach could in fact be a veneer or crown. But for slight chips or other minor defects, composite resin could transform your tooth's appearance dramatically.
To see if composite resin is a viable restoration option for your tooth, visit your dentist for a complete dental examination. It's quite possible you'll leave with a more attractive tooth and a more confident smile.
If you would like more information on restorations using composite resins, please contact us or schedule an appointment for a consultation. You can also learn more about this topic by reading the Dear Doctor magazine article "Artistic Repair of Front Teeth with Composite Resin."
By Sharon Stern, DDS, PC
December 05, 2017
A lot of people don't like dental work because they believe it will be painful or uncomfortable. There's an anatomical reason to back up that concern — the mouth with its dense network of nerves in the teeth and gums is one of the most sensitive parts of the human body.
But modern dentistry has helped solve much of the problem of pain with advances in local anesthesia. Using substances that temporarily block electrical impulses within the nerves of a selected area of oral tissues, there's a good chance you'll feel little to no discomfort even during moderately invasive procedures.
Unfortunately, you might have heard some complaints from others about local anesthesia that might make you wary of it. Many of these complaints, however, aren't fully based on all the facts. So, let's set the record straight about local anesthesia and what you can expect.
No need to be afraid of needles. Nobody enjoys the painful prick from an injection needle, and some people are highly fearful of them. But although it's necessary to use a needle to deliver anesthesia to deeper levels of tissue, it's possible you won't feel it. That's because we'll typically apply a topical numbing agent to the skin surface that deadens the top layers where we insert the needle.
That numb feeling afterward won't last long. One of the chief complaints in the past about local anesthesia was the irritating numbness that could long linger after a procedure. Today, however, with more advanced anesthetics and formulae, we're better able to gauge the duration of the medication's effect.  This has greatly reduced the length of time afterward your mouth might have that awkward numbing sensation.
Anesthesia isn't necessary for every procedure. Unless you have hypersensitive teeth, a lot of dental procedures don't require anesthesia. Your enamel, for example, has no nerves and actually serves as a kind of "muffler" for sensations to lessen their effect. Cleaning your teeth or removing portions of the enamel can normally be performed without the need for numbing medication.
For procedures, though, where pain could be a factor, local anesthesia can make all the difference in the world. In these cases, anesthesia is your friend — it can help you receive the dental care you need without the discomfort.
If you would like more information on pain-free dentistry, please contact us or schedule an appointment for a consultation. You can also learn more about this topic by reading the Dear Doctor magazine article "Local Anesthesia for Pain-Free Dentistry."